Hello!
By finding us on our direct page, you can be sure that you would like to book us, and don't think any further.
Our house is located on the Petőfi promenade in Siófok, under number 12. One of the entrances to the main beach, where the ferris wheel is, is opposite the street.
Upon arrival, you should check in at the Páter Restaurant next to the house, tell any colleague you arrived or call us at + 3630/4760210, if we don't pick you up first, we are probably with another guest, give us a few minutes and we'll call you back. Arrival is possible from 2 pm, please keep this in mind as we will clean before that.
The house has several double rooms, 2 family / 4 person rooms and an apartment for 4 people. All of our rooms are air-conditioned at a surcharge of EUR 6 / night / room.
For room descriptions click…
The pool and courtyard are shared. Parking is possible in the large parking lot next to the house, at a discounted rate of EUR 7,5 / night / car – direct access from the parking lot to the house. The entrance to the large parking lot is located on Glatz Henrik Street, it is worth getting as close as possible to a "brown gate" – for direct access.
Pets are welcome, under 15 kg: EUR 6/night/pet, above 15 kg: EUR 9/night/pet. Thank you!
The yard itself has artificial grass, we have a swimming pool and garden furniture, barbecue is possible, for which we can only provide a grill. Apart from the 4-person apartment, there is no kitchen anywhere, so it's worth bringing paper plates and glasses, beyond the charcoal and the lighter. After the barbecue, we ask you to pack everything for yourself so that the others will have a good time in the yard, as our cleaner is only at the house until 2 pm. Thank You!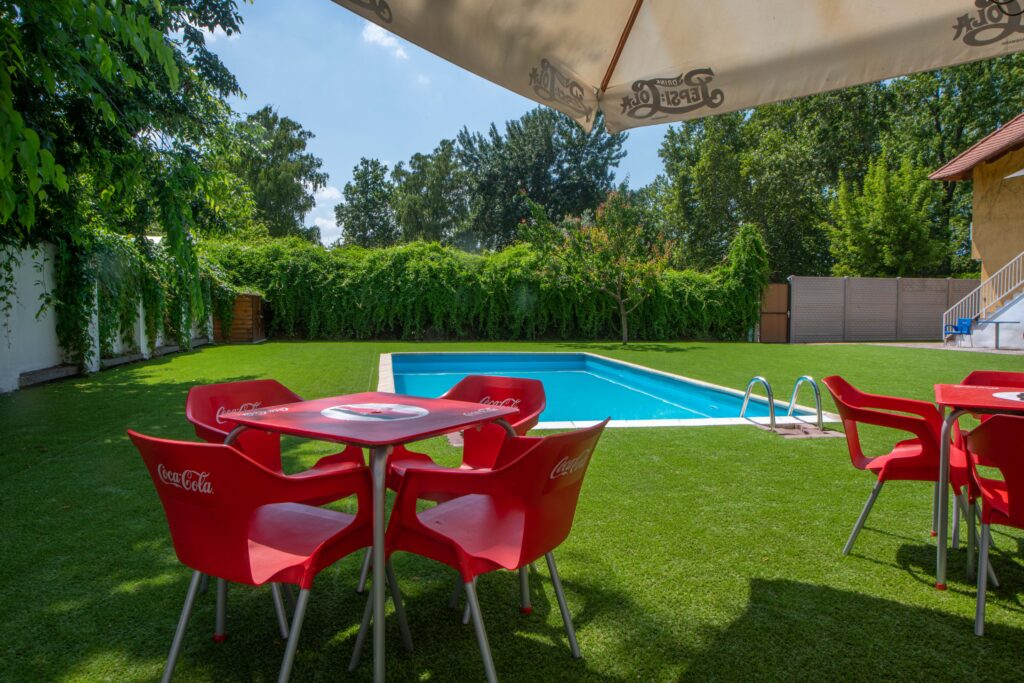 We collect the trash selectively, at least the paper and the plastic, so we ask that you respect that and place it in the designated selective trash bin squeezed. Mixed waste, if you also want to take it to the big trash can, you can, it's interesting because we don't have daily cleaning.
Payment is required on arrival at all times. We accept cash, cards.
During your stay, if you have any problems, please let us know if we can solve it because we can solve it for sure.
It is necessary to leave the rooms by 10 am, please keep this in mind, in order for everyone to get their room in time.
Otherwise, we are very kind and cute, and we work for you and for your pleasant stay – feel free to contact us.
Ági and Balázs